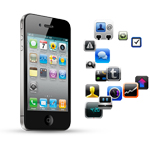 Looking for Mobile website design then you are the right place. We complete your all requirement of Mobile website design with very competitive range with world class quality.
Mobile application development is the process by which applications are developed for handheld devices such as digital assistants, enterprise digital assistants or your mobile phones.
Now a day, there are millions of people are used mobile for their online business but when user's find your site is in mobile and find its not getting more information by website so visitors leave your website. Falcon search gives you the solutions for your website for mobile users and after seeing proper your website in mobile users get more information by your mobile and convert that visitor in to your business.
Falcon search has high skilled and expert mobile technology professional, providing Mobile website design, WAP website Design, Smartphones website Design, Mobile Search Engine Marketing, Custom Mobile web solutions, Mobile PSD 2 XHTML Conversion, Mobile website design consulting serviceswith customized solutions as per the current trend.
Falcon search offers following Mobile Design Services:
Mobile website Design
Mobile website Development
Mobile website re-design
WAP website Design
Smartphones website Design
Mobile Search Engine Marketing
Custom Mobile web solutions
Mobile website design consultancy
Why you choose Falcon search for Mobile website Design:
Highly skilled mobile website designers
Best Quality result
Focus on Mobile site usability
Website accessibility strategies
SEO Friendly Design